UPDATED COVID GUIDELINES & REQUIREMENTS < TRAINING, TRAVEL & WHAT HAPPENS IF I'M POSITIVE >
March 16, 2022
Dear Volleyball Family,
We wanted to provide an update as Government have recently released updates. As we see Government continue to find the right balance of managing restrictions vs opening the island up 100%, we are bound to follow the specific Health Department Regulations and guidance.
As a reminder, if you test positive within 48 hours of attending anything held by the BVA or its subsidiaries, we rely on you to report your results to BDAvb@hotmail.com in order to navigate through these times with the best interest of keeping our volleyball family safe and our programs running. As a reminder, this information is kept very confidential and is not submitted anywhere. It is solely for the purpose that we can advise teams on contact tracing requirements and determine if a division should break for a session or simply, remain cautious.
As we continue to be classified as "Medium-Risk" sport we carry specific Health Department Regulations and have devised the following protocols, which are in line with government guidelines.
Definitions:
(FV): Fully Vaccinated – Full course of an approved vaccine, plus two weeks
(RR): Recently Recovered – Recent infection within the last 6 months, with certified proof of positive result from a licensed healthcare provider
(UV) Unvaccinated – Incomplete course of vaccination or no vaccine at all.
CLFT: Certified Lateral Flow Test
LFW: LF Wade International (Bermuda Airport)
Training:

Current Dept of Youth, Sport and Recreation Return to Sport Guidelines require all FV & RR athletes / coaches to antigen test twice per month and UV athletes / coaches to antigen test twice per week. Temperatures will continue to be taken prior to entry and sanitization protocols will continue. All antigen tests will be at the cost of the player/coach once the BVA's current supply has been depleted.
Summary of testing and quarantine requirements for returning residents:
Travel Authorization is required and cost $40 for ALL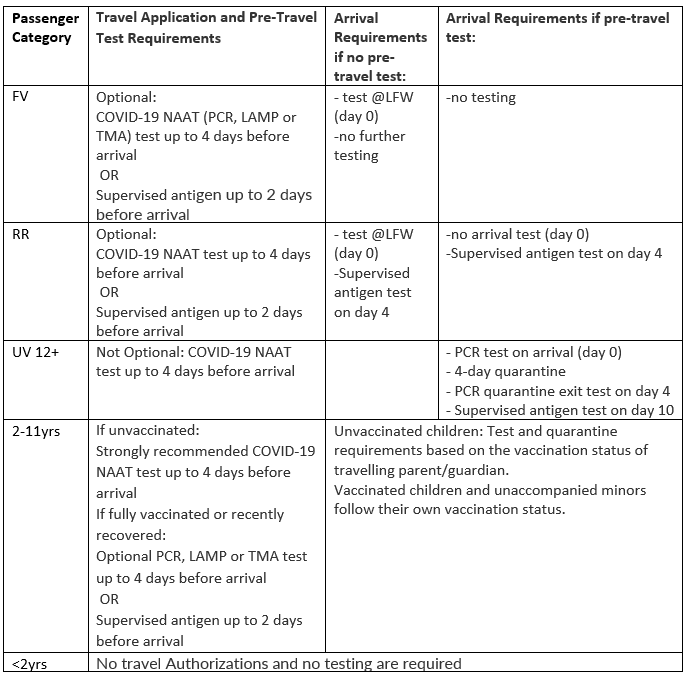 What Happens If I Currently Test Positive? (Please continue to check gov.bm or call the hotline for updates)
If you test positive, please report your results to us (and your Dr.). You should call the Covid hotline (444 2498) and they will book you a release testing date.
We consider volleyball "casual contact" based on the size and number in the gym.
Summary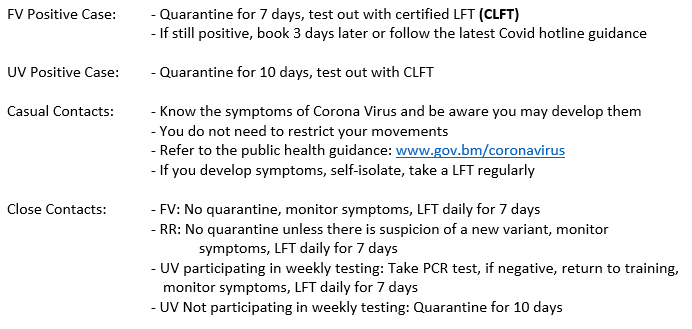 Close vs Casual: http://www.gov.bm/sites/default/files/Close%20Contact%20vs%20Casual%20Contact.pdf
Schools, childcare and camps: https://www.gov.bm/coronavirus-schools
If you have any further questions, please direct them to bdavb@hotmail.com
We thank you for your continued patience and understanding.